A giant version of one of Ireland's most iconic sculptures, Patrick O'Reilly's Wolfhound, is set to be unveiled at Ireland's premier art fair, Art Source, at the RDS this weekend
Featured on: Independent.ie
The two-metre high Wolfhound will the centrepiece of a unique sculpture garden featuring over 45 top Irish and international artists at the Gormleys stand at Art Source, which runs from Friday to Sunday (Nov 11-13).
And 15,000 visitors to Art Source will also see an exhibition of works by Damien Hirst, the world's wealthiest living artist, who recently burned hundreds of his artworks live online.
O'Reilly's Wolfhound is arguably the most iconic Irish sculpture of recent times and is universally loved wherever it is displayed.
"The wolfhound is a giant amongst dogs and deserved to be made into a giant sculpture," said O'Reilly.
"Nothing represents Ireland better than the gentle quality of our nature and this is reflected in how I have visualised the wolfhound.
"They are the tallest dogs in the world but also have the sweetest nature and any country would be proud to have it as a symbol."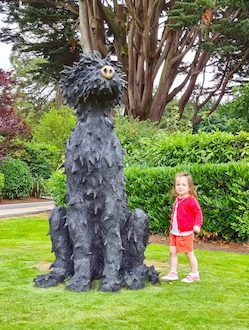 O'Reilly was inspired to create the series after reading about Princess Elisabeth of Austria who loved Ireland and was always photographed with Irish wolfhounds at her feet.
Gormleys indoor sculpture garden will also feature works by renowned sculptors such as Patrick O'Reilly, Salvador Dali, Giacinto Bosco, Ian Pollock, Eamonn Ceannt, Bob Quinn, Anthony Scott and Sandra Bell.
A substantial exhibition of Hirst's work will be shown at the Gormleys stand at Art Source,
Hirst livestreamed the burning of hundreds of his artworks after collectors chose to keep their non-fungible tokens (NFTs), blockchain-based assets representing their digital images, instead.
Collectors of The Currency had to choose between keeping the NFT, which reportedly sold for €2,000, or swapping it for the physical artwork.
Over 15,000 people are expected to attend the year's biggest and most exciting art show, which will feature 160 of the best contemporary Irish and international artists and galleries.
"Art Source offers visitors the opportunity to purchase a one-off affordable original artwork to make their home unique and also the opportunity to meet the artists and hear about their work," said show organiser, Patrick O'Sullivan.
"The event is where the industry meets to see what is going on in the Irish art world, and this year is our biggest yet, with the widest range of art styles anywhere in Ireland.
"The reason the show is growing so much is the quality of the exhibitors. Irish people are interested in arts and culture at heart, and, once they see it, many people make a point of returning to the fair annually."
Irish art lovers have the unique chance to get their hands on 100 pieces of original artwork for €100 each on a first-come, first-served basis on the opening morning of the show – Friday, November 11.
The show will also feature Source Your Own Art: a free children's pop-up art workshop where youngsters are invited to express themselves creatively in response to the art they see at the fair.
Art Source takes place at the RDS, Dublin, from November 11-13, admission is €10 adults, with children under-16 free once accompanied by a parent or guardian.
Opening times: Nov 11: 11am-9pm, Nov 12 and 13: 10am-6pm. See Artsource.ie