Dublin artist talks to Paris buyers and plans new show after cross-Ireland walk and fatherhood changed his perspective
Featured on: thetimes.co.uk
A new exhibition by Maser, one of Ireland's most renowned contemporary artists, reflects a year of highlights – from first-time fatherhood to exhibiting in Sotheby's, Paris, and more besides.
Lost Time, Found Again, his latest contemporary exhibition, explores the ambitious endeavour to keep everything afloat, and runs from October 27 to November 14 in Gormleys gallery, Dublin 2.
Best known for creating the iconic Repeal heart mural, Maser, who lives in South Dublin, has built a large and dedicated following, both in Ireland and internationally, for his unique graphic style.
This year, he became a father for the first time, and alongside this personal milestone, his evolution to one of Ireland's most acclaimed and collectable contemporary artists has accelerated over the past 12 months.
This year, he has been chosen to both exhibit and speak on his work to art investors at Sotheby's, Paris, as well as exhibiting at the Irish Museum of Modern Art's museum-wide exhibition The Narrow Gate of the Here-and-Now.
He also collaborated with the National Print Museum this year in creating Parallels.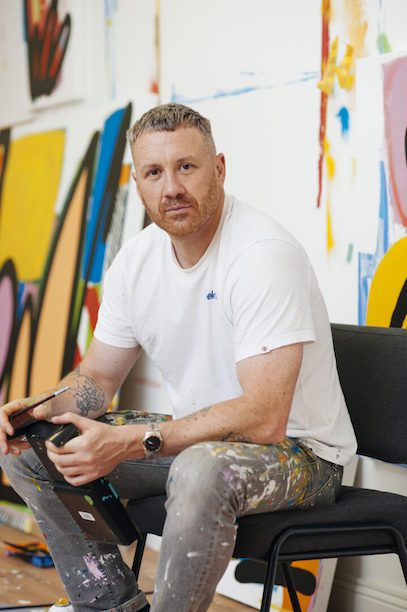 When invited to collaborate with the Museum for their 25th year, Maser chose as his starting point the 1916 Proclamation and the craft of letterpress printing, both central aspects of the Museum's history. 
The artist also held the first exhibition of Irish street art in a leading Irish contemporary gallery with Gormley's in 2021, a collection which sold out during the show, as well as a successful solo exhibition in London.
Lost Time, Found Again, his newest collection, explores the push and pull of time and the ambitious endeavour to keep everything afloat as key narratives.
With family and work at the heart of Maser's life, these paintings illustrate the search for equal balance across each day: the movement of energies, the rearranging of priorities and the creation of harmony.  
Each canvas pinpoints a fleeting moment of energy and focus in daily life: a graphic balance of forms and colour, with clusters of busy lines creating a focal point to draw the viewer in.
These clusters pinpoint fleeting moments of energy—in some paintings they feel somewhat chaotic, and in others they bring harmony and ease to the composition, alluding to the ebb and flow of life.
Maser's signature use of black forms, usually painted as the final layer, fuses the segments of the painting together and unifies the artwork within the boundaries of the canvas to create a visual snapshot of time.
"Tomorrow, everything will be different than today. That is the essence of this collection," said the artist.
Lost Time, Found Again runs from October 27 to November 14 in Gormleys Fine Art gallery, Dublin 2. Further details at: gormleys.ie.