Stephanie joined thousands of other hosts across Ireland who took part in Bewley's Big Coffee Morning Social for Hospice
Featured on: DublinLive.ie
Great-grandmother Stephanie Graham, who lives in Terenure, has been hosting coffee morning's for Harold's Cross Hospice since their inception 30 years ago.
It has become a family affair for Stephanie, daughters Suzanne Graham and Helen O'Leary and grand-daughter Beth-Anne Graham who help her and fellow volunteers and friends, Joan Merrigan and Grainne Cregan, with the organisation and hosting of the events.
And she now has added another dimension to her fundraising work for Harold's Cross Hospice by hosting both indoor and outdoor events in her home and garden each year.
Stephanie's work honours the memory of family friend Peggie O'Hare, from Rathmines, who was cared for at Harold's Cross Hospice during her final years, before her death in 2004.
"Peggie was widowed had been a nurse at St Vincent's hospital, and, though she was in a nursing home she was anxious she spend her final days at Harold's Cross Hospice with the Sisters of Charity, who were in both institutions.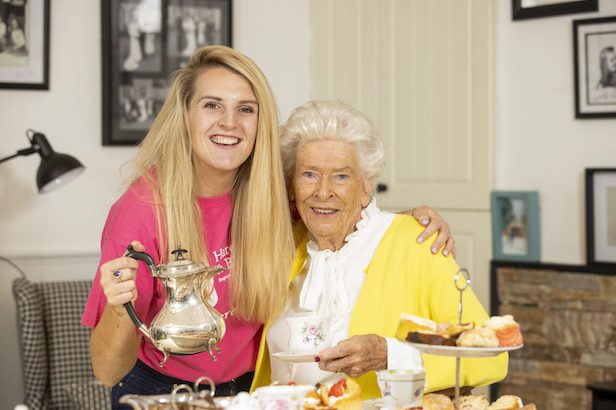 "I was around Harold's Cross Hospice so often that I was asked by one of the staff to help with fundraising and that is how it all began for me.
"I initially started out as stuffing envelopes, and my coffee mornings began as very small affairs, raising £200. We thought we were great when we went on to raise £500."
Over the last two years, Stephanie has moved the event to her garden, hosting two coffee mornings, indoors and outside. Last year €€5,000 was raised in glorious weather.
She will do the same this year on September 17 and 22.
"It has become a bit of a local social event over the years. I live on the main road, and people passing stop to offer a donation without having any coffee.
"I have a lot of wonderful help. I organise the events with my friends Joan Merrigan and Grainne Cregan with the help of my daughters Suzanne and Helen and grand-daughter Beth-Anne, who all love the fun of it all.
"For me, it is all about publicising and helping the fantastic work of the Hospice movement, both in terms of residential and palliative care.
"Personally, there has always been something special to me about a hospice nurse, and I feel lucky to play a small part in the wonderful work they do."