Between 2007 and 2017, Ireland's two-way trade with Asia more than doubled. Let's do it again
Featured on: Independent.ie
A radical rethink on how we do business with Asia is required if Ireland's vision of two-way trade worth €100bn with the world's wealthiest region is to become reality. 
The Government published its ambitious trade plan in the document 'Delivering in the Asia Pacific Region to 2025' in January 2020. 
However, our exports to Asian markets declined mainly due to Covid – falling by 1 per cent to €2.14 billion by the end of 2020. 
Members of Ireland's only Asia think tank, Asia Matters, know that sustainable business growth across the region greatly depends on our ability to understand and engage with the right partners in a meaningful way.  
Official visits, like the Taoiseach's recent four-day tour of Singapore and Japan, create momentum to create and drive new initiatives to boost bilateral trade.
One opportunity we would like to see arising from the trip would be to prioritise Japan opening a Japan External Trade Organisation (JETRO) office in Dublin.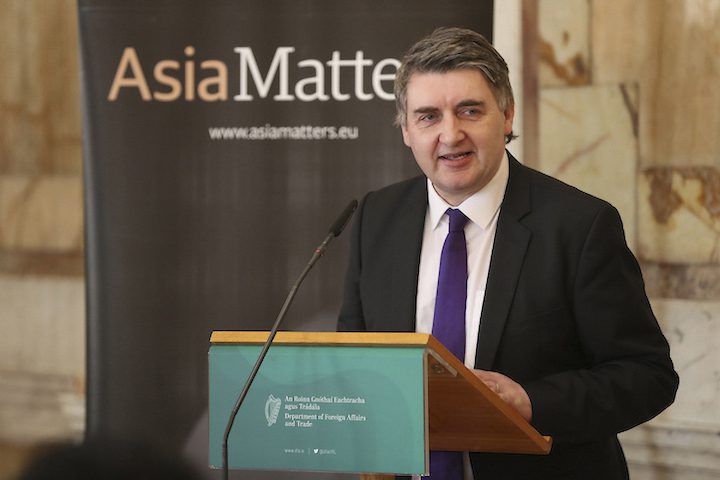 JETRO is the government agency responsible for promoting trade between Japan and the rest of the world.  
In Atlanta, Georgia, where JETRO has an office, there are 400 Japanese companies; in Ireland, where there isn't a JETRO office, that number is 40. 
When Taoiseach Michéal Martin turned the sod at Ireland House in Tokyo recently, it marked a key phase in the Department of Foreign Affairs' biggest ever capital investment project.  
Scheduled for completion in 2024, the €21m building will not only house the new Irish Embassy in Japan it will also be home to Tourism Ireland, Bord Bia, Enterprise Ireland and IDA Ireland. 
Two-way trade with Japan is now worth almost €20 billion and Ireland House will no doubt become a major staging post for Irish companies looking to do even more business in the world's third largest economy. 
As a follow up to this visit, it would do our country's reputation no harm if Mr Martin or Tánaiste Leo Varadkar joined other global leaders in Japan on September 27 to attend the state funeral of the country's former prime minister Shinzo Abe. 
As someone who has lived and worked in Japan, and who speaks the language daily, I know our attendance would be treated as mark of respect and remembered by Japanese people. 
But Ireland still needs to do much more to strengthen our trade links with Asia. 
Our next mission, if you pardon the pun, should be a Singaporean embassy in Dublin. 
The fact that an economic powerhouse like Singapore, where English is an official language, does not have an ambassador in Ireland is a cause for great concern. 
As farcical as it sounds in this post-Brexit era, Ireland is run out of Singapore's embassy in England. Although we are the largest English-speaking country in the EU, we are literally a subsidiary of Singapore's London office.  
Forging stronger links with Singapore would also give our businesses better access to the vast Association of Southeast Asian Nations (ASEAN) market.  
As well as Singapore, the ASEAN trading bloc includes nine other states – Brunei, Cambodia, Vietnam, Laos, Myanmar, Malaysia, Philippines, Indonesia and Thailand. In 2020, its GDP was just over US$3 trillion.  
It is a massive market – but only Malaysia out of all the ASEAN countries has an embassy in Ireland. That needs to change. 
We must take our opportunities when they present themselves if we want two-way trade between Ireland and Asia to rise to €100 billion by 2025.   
When doing business in Asia you get back what you put in. It takes time and effort.
We must also ask ourselves what are other smaller countries doing. Take Denmark, for example. With a population of 5.8 million, it is roughly the same size as Ireland but it exports almost as twice as much to the Asian region.  
Ireland punches above its weight globally because of the quality of our people but we need more boots on the ground in Asia to compete effectively and grow trade.
Our strongest trading partners remain Europe and America, where the combined economies account for less than 44 per cent of global GDP – as opposed to Asia, where just under half of the world's wealth is created.  
We are hindered by the legacy of our past – a legacy which has left the country stuck in English-language mode when we should really be focusing on the emergent markets of the future instead. 
Hitting the €100 billion mark in trade with Asia is no pipe dream.  
Between 2007 and 2017, Ireland's two-way trade with the region more than doubled from €23 billion to €56 billion.   
There is no reason why it cannot double again. 
Asian Matters Executive Director Martin Murray is also the Honorary Consul of the Republic of Indonesia in Ireland. With twenty years of experience working in EU-Asia trade, public diplomacy and cross-cultural relations, he is recognised as a leading Asia business expert by government and corporate stakeholders.